Watch
CBC looks at Chris Kunitz and his experience at Ferris State
Former Hobey Baker Award finalist Torey Krug...
Watch
The Edmonton Oilers look at how Michigan State shaped three of their players.
"I'd go back [to Dartmouth] a hundred times out of a hundred. I hope to..."
– Pittsburgh Penguin Tanner Glass, in a Post-Gazette story on the growing influence of college hockey in the NHL
"You've got to love a sport where, in addition to the BCs, BUs, Minnesotas,..."
– The Boston Globe's Bob Ryan writes, as only he can, about the glory of college hockey
"It was the best four years of my life. It was such a great group of guys that I..."
– North Dakota's Andrew MacWilliam reflected on his time in Grand Forks as he prepared to join the Toronto Maple Leafs system
"Nothing's more exciting than college hockey. Skill, toughness, passion -..."
– ESPN's John Buccigross
"He's an A-plus kid. We don't do a team yearbook, but if we did,..."
– Quinnipiac head coach Rand Pecknold on Saturday's game-winning goal scorer Kevin Bui
"Truthfully, it was the best three years of my life so far. I built lasting..."
– Tommy Wingels of the San Jose Sharks talked to the Edmonton Oilers web site prior to facing off against former teammate Ryan Jones. Both Wingels and Jones scored in the game.
"[T.J. Oshie] didn't even play one game in the American League, and he even said,..."
– North Dakota's Danny Kristo, explaining his decision to return to school for his senior season
"My whole life I had it in my head that I wanted to come to college. Once I came..."
– British Columbia native Curtis McKenzie on playing at Miami
Watch
An inside look at Canisius celebrating its sweep at Air Force last weekend.
"Looking back, as much as I've improved over time and as hard as I've worked to..."
– Miami's Garrett Kennedy has become an important player for the RedHawks, a testament to his dedication and development.
"The one thing you know about [Dean Blais's] teams is that they're..."
– Rick Zombo, one of three former NHLers who played for Dean Blais who now have sons skating for Blais at Nebraska-Omaha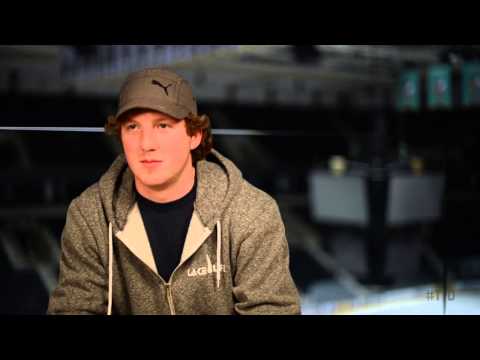 "This four-year experience, I wouldn't trade for anything else."
– RIT's captain and leading scorer, Chris Saracino, could surely play some pro hockey - but after this season he will hang up the skates and pursue a law degree
"Growing up in Canada, a lot of players play in Major Juniors, but I was lucky..."
– North Dakota junior Dillon Simpson, whose father was a star at Michigan State and in the NHL
"The neat thing is because this is a small school you're playing in front..."
– Niagara goaltender Carsen Chubak on the environment at Purple Eagles games
Watch
Great look at Canisius grad Cory Conacher and his path to the NHL
"It's been great; Quinnipiac has never been a part of something like [a..."
– Sophomore forward Michael Peca on his experience with the No. 1 Bobcats
Buffalo: Home of Hobeys
The Buffalo Sabres have recalled Kevin Porter, giving them three Hobey Baker winners on the roster (Jordan Leopold, Ryan Miller). Only two other teams in NHL history have had three Hobey winners on the roster: Calgary in 2002-03 (Chris Drury, Jordan Leopold and Mike Mottau) and Anaheim in 1999-00 (Tony Hrkac, Paul Kariya and Kip Miller). The Sabres join the New Jersey Devils as the only teams to...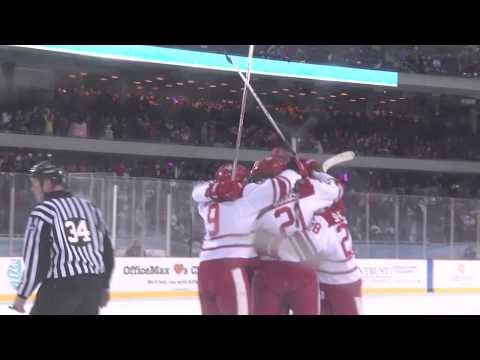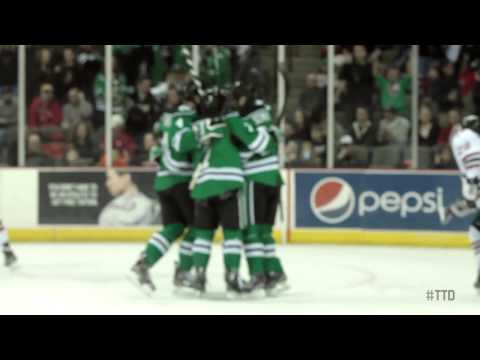 "Education was very important to me and my family. That route seemed to work..."
– Harvard graduate Alex Killorn recently made his NHL debut with the Tampa Bay Lightning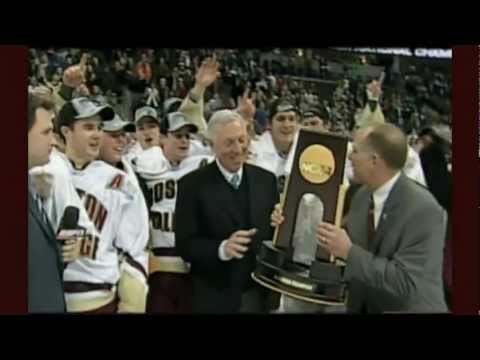 Watch
North Dakota fans salute the team as it heads to the dugout at TD Ameritrade Park following Saturday's outdoor game win against Nebraska-Omaha. (Courtesy ushl.com.)
Chad Johnson, who posted a shutout in his first...
"I'd seen NCAA games on TV and I was like, 'Oh man, that's what I want to..."
– RIT's Jeff Smith grew up watching the Spokane Chiefs, but left home to pursue a college hockey career.
"Playing in Yost made me look around and say, 'Wow, I'll be playing here for the..."
– Future Wolverine Evan Allen on the opportunity to face Michigan as a member of the U.S. National Under-18 Team.
Andy Miele's tweet
Had a dream last night I got to play one last game at a sold out goggin. #bestdreamever @miamiicehockey — Andy Miele (@Andy_Miele) January 28, 2013
Watch
Northeastern's Zak Stone gets behind the camera for a unique look at college hockey on NESN.
"You know if you graduate from Michigan as an athlete, you pretty much have a job..."
– New York Ranger Carl Hagelin talks to the New York Post about why he picked Michigan for college.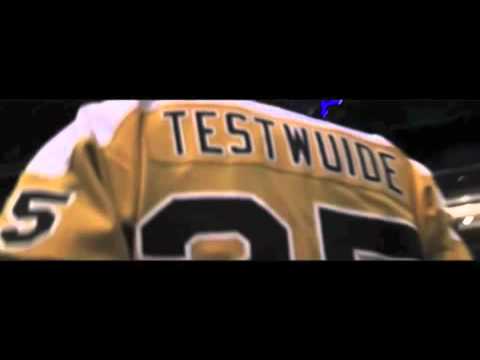 "I think it is just cool being able to go to class with people who watch your..."
– Miami's Sean Kuraly, a golf medal winner with the U.S. National Junior Team, on his favorite part of the college experience.
Pierre McGuire joined Ken Schott's podcast...
"I couldn't be happier. When they came into the picture, it was an easy..."
– Doyle Somerby, Kimball Union senior, is headed to Boston University in the fall. The New York Islanders hope it's the next step en route to the NHL for their 2012 fifth-round draft pick.
"I loved the campus, the hockey, the facilities, the school — I just kind of fell..."
– Miami senior Joe Hartman is among the leaders on the nation's top-ranked defense.
"I just knew you always have a life after hockey and I just sat down, my family..."
– Miami freshman Riley Barber, fresh off his gold medal at the World Junior Championship, reflects on his decision to play for the RedHawks.
"NCAA gives you all the opportunities to succeed in life."
– Kimball Union prep player A.J. Greer, a Quebec native who has committed to play at Penn State.
"Four years is a plan. I need my education. I have no problem with that...."
– Michigan State freshman Matt DeBlouw, who is in no rush to move on to the pros after being drafted by Calgary last summer.
Watch
One day after their No. 1 vs. No. 2 showdown on the ice, Minnesota and Notre Dame worked together to help hungry families.
"I can't remember having as much fun at a hockey game as I did that night..."
– Longtime hockey journalist Mike Brophy, in an interview with College Hockey, Inc.'s Mike Snee, about his first visit to an NCAA game
"I loved every part of Ohio State. It was a blast. There's definitely a part of..."
– R.J. Umberger, who is biding his time during the NHL lockout behind the Buckeye bench as a volunteer assistant coach
"I need to get stronger and there are some little things I need to improve on my..."
– Boston College freshman Mike Matheson has made a splash in his first season, and is already seeing the development benefits of college hockey.
Watch
Former Western Michigan player John Saunders salutes Army Maj. Tom Kennedy on this week's Sports Reporters.
"You shouldn't say, I can't be good at hockey because I'm smarter or I have..."
– Guy Gadowsky's message to Kevin Westgarth when the two were at Princeton; Westgarth is now one of the NHLPA leaders trying to negotiate a new CBA
"The NCAA programs are an unbelievable feeder program, not only for us but for..."
– Jim Johansson, general manager of the U.S. National Junior Team and a former Wisconsin star, on the college game